Cisco C9200-48P
We at Questivity understand that pricing is one of the most important decision making criterion. We are making every effort to provide this product to you at the best possible price in the industry. However, our most satisfied customers tell us that they like the personal attention we afford, the technical expertise we provide and the transparency we bring to the pricing negotiations. Make this or your next purchase a whole new buying experience!!!
C9200-48-P Details
Part Num:
 C9200-48P-A
Model:
 C9200-48P
Detail:
Switching capacity: 176 Gbps,Switch capacity with Stacking: 336 Gbps,Forwarding rate: 130.95 Mpps
Virtual Networks: 4 ,Stacking bandwidth: 160 Gbps
Total number of MAC addresses: 32,000,Total number of IPv4 routes (ARP plus learned routes): 14,000 (10,000 direct routes and 4,000 indirect routes),IPv4 routing entries: 4,000,IPv6 routing entries: 2,000
Price:
US$3235.00
List Price:
US$6470.00
You Save
US$3235.00(50% OFF)
Condition:
Brand New Sealed
Availability:
7 DAYS
Questivity is a Cisco Premier Partner with Authorization to sell all Cisco Products. Buy this and all Cisco products from Cisco Authorized distribution channels and resellers like Questivity with complete backing of Cisco. Please Call 408-605-5598.
C9200-48P Switch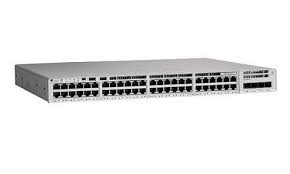 "Request Discounted Pricing"
C9200-48P Overview
C9200-48P-A is the Catalyst 9200 48-port PoE+ Switch, with Network Essentials software. Cisco® Catalyst® 9200 Series switches extend the
power of intent-based networking and Catalyst 9000 hardware and software innovation to a broader set of deployments. With its family pedigree, Catalyst 9200 Series switches offer simplicity without compromise – it is secure, always on, and IT simplified.
Catalyst 9200 series switches provide enterprise-level resiliency, analytics, and assurance to keep your business up and running seamlessly.
Remote Management over NETCONF, RESTCONF, RMON 1, RMON 2, SNMP 1, SNMP 2c, SNMP 3 Warranty: Limited Lifetime
Up to 48 ports of full Power over Ethernet Plus (PoE+) capability
Resiliency with Field-Replaceable Units (FRU) and redundant power supply, fans, and modular uplinks
Flexible downlink options with data, PoE+ or mGig
Operational efficiency with optional backplane stacking, supporting stacking bandwidth up to 160 Gbps
UADP 2.0 Mini with integrated CPU offers customers optimized scale with better cost structure
Enhanced security with AES-128 MACsec encryption, policy-based segmentation, and trustworthy systems
Layer 3 capabilities, including OSPF, EIGRP, ISIS, RIP, and routed access
Advanced network monitoring using Full Flexible NetFlow
Cisco Software-Defined Access (SD-Access):

Simplified operations and deployment with policy-based automation from edge to cloud managed with Cisco Identity Services Engine (ISE)
Network assurance and improved resolution time through Cisco DNA Center

Plug and Play (PnP) enabled: A simple, secure, unified, and integrated offering to ease new branch or campus device rollouts or updates to an existing network
Cisco IOS XE: A Common Licensing based operating system for the enterprise Cisco Catalyst 9000 product family with support for model-driven programmability and streaming telemetry
ASIC with programmable pipeline and micro-engine capabilities, along with template-based, configurable allocation of Layer 2 and Layer 3 forwarding, Access Control Lists (ACLs), and Quality of Service (QoS) entries