Cisco Catalyst 9000 Series
We at Questivity understand that pricing is one of the most important decision making criterion. We are making every effort to provide this product to you at the best possible price in the industry. However, our most satisfied customers tell us that they like the personal attention we afford, the technical expertise we provide and the transparency we bring to the pricing negotiations. Make this or your next purchase a whole new buying experience!!!
Cisco Catalyst 9300 Series Overview
The Catalyst 9300 Series is the next generation of the industry's most widely deployed stack-able switching platform, and it was recently recognized as CRN's 2017 Overall Network Product of the Year. The Cisco® Catalyst® 9300 Series switches are Cisco's lead stack-able enterprise switching platform built for security, IoT, mobility, and cloud. They are the next generation of the industry's most widely deployed switching platform. Catalyst 9300 Series switches form the foundational building block for Software-Defined Access (SD-Access), Cisco's lead enterprise architecture.
The Cisco 9300 Series is designed for Cisco StackWise® technology, providing flexible deployment with support for nonstop forwarding with Stateful Switchover (NSF/SSO), for the most resilient architecture in a stackable (sub-50-ms) solution. The highly resilient and efficient power architecture features Cisco StackPower®, which delivers high-density Power over Ethernet Plus (PoE+), 60W Cisco Universal Power over Ethernet (Cisco UPOE) and 90W Cisco UPOE+© ports. The switches are based on the Cisco Unified Access™ Data Plane 2.0 (UADP) 2.0 architecture which not only protects your investment but also allows a larger scale and higher throughput. A modern operating system, Cisco IOS® XE with programmability offers advanced security capabilities and Internet of Things (IoT) convergence.
Questivity is a Cisco Premier Partner with Authorization to sell all Cisco Products. Buy this and all Cisco products from Cisco Authorized distribution channels and resellers like Questivity with complete backing of Cisco. Please Call
408-605-5598.
Cisco Switches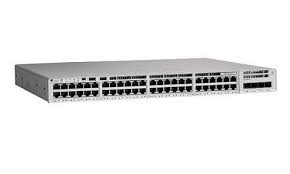 "Request Discounted Pricing"
Cisco Catalyst 9300 Series Overview
Cisco® Catalyst® 9300 Series switches are Cisco's lead stackable enterprise access switching platform and as part of the Catalyst 9000 family, are build to transform your network to handle a hybrid world where the workplace is anywhere, endpoints could be anything, and applications are hosted all over the place.The Catalyst 9300 Series, including the new Catalyst 9300X models, continues to shape the future with continued innovation that helps you reimagine connections, reinforce security and redefine the experience for your hybrid workforce big and small.
The many industry's first include:
●      Up to 1TB of stacking bandwidth: With Stackwise-1T, Catalyst 9300 switches are the industry's highest-density stacking bandwidth solution with the most flexible uplink architecture
●      Flexible and dense uplink offerings with 100G, 40G, 25G, Multigigabit, 10G, and 1G modular uplinks
●      Mixed Stacking with Backward Compatibility – Stack your Catalyst 9300X fiber switches with Catalyst 9300 and Catalyst 9300X Multigigabit switches, bringing stackable high-speed fiber to the access
●      Highest Multigigabit Ports: With standalone and Stackwise-1T, Catalyst 9300X models enable 48 mGig ports in standalone and 448 mGig ports with an 8-member stack
●      Highest 90W UPOE®+ Density: Enable your OT/IT needs with up to 36 ports of 90W UPOE+ for standalone or 288 ports of 90W UPOE+ with a 8-member stack.
●      StackPower with Backward Compatibility: Enable power resiliency with higher power budgets in mixed Catalyst 9300 and Catalyst 9300X stack.
●      100G IPsec in hardware: With the new 2.0Sec UADP ASIC, the Catalyst 9300X comes with 100G line rate IPsec to enable various options for new edge connectivity
●      Secure Tunnel connectivity: With the new edge, the C9300X enables secure connections to Secure Internet Gateway, Cloud Service Providers and Site to Site connectivity using IPsec tunnel with AES-256 Encryption and speeds up to 100G.
●      Enhanced Application Hosting: With 2x capacity and additional RAM, QAT, and 2 x 10G AppGig Ports, multiple Cisco Signed performance savvy applications can be hosted on Catalyst 9300X
●      ThousandEyes Enabled: End-to-end visualization of the path from campus/branch to clouds/DC with Cisco ThousandEyes Network and Application Synthetics (included with Cisco DNA Advantage licenses)
●      Investment Protection: Catalyst 9300X redundant fans and power supplies, data stack and StackPower cables are backward compatible with the Catalyst 9300.
Recommended Models of Cisco 9000 Series
The recommended models of Cisco 9000 Series are