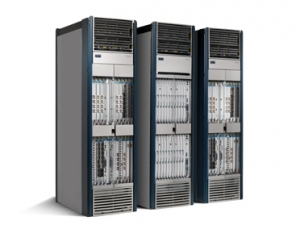 CARRIER ROUTING SYSTEM CRS
CARRIER ROUTING SYSTEM CRS-1
The Cisco CRS-1 Carrier Routing System is the industry's only carrier routing system offering continuous system operation, unprecedented service flexibility, and system longevity. Powered by Cisco IOS XR Software, it is designed for always-on operation while scaling system capacity up to 92 Tbsp. Questivity is the only Cisco channel partner that has experts who have worked on designing the CRS system and the IOS-XR software and have, worked issues related to the first installations of the system at Major carriers and have extensive exposure to issues faced by the carriers during deployment. Questivity's engineers while at Cisco have worked on delivering all the high-speed interfaces and PLIMS on the CRS-1, like the OC192, OC768- SR POS, 10GE DWDM PLIM, 40G DWDM POS, 40G DWDM POS with DPSK. They have also been instrumental in delivering the industry's first 100GE solution and have done all the work on probably the only patent in the Networking industry that provides a truly hitless switching (Zero packet Loss) under optimum conditions. Questivity can bring this expertise to you for any of your current and feature CRS-1 centered projects. Questivity can provide: –
Help you make the right configuration choices on your CRS-1 and bring valuable insights that might result in huge cost savings
Will work with you to validate your design and help answer any questions related to interoperation with competitive equipment.
Help you in installation and configuration of your CRS at comparably very competitive prices.
Help you buy the CRS hardware at the best price points.
Training on CRS-1 and Next generation CRS
CISCO CRS-1 FEATURES
Based on an extensive analysis of the requirements of the issues facing the Carriers in integrating the telecom, datacom and the optical DWDM solutions the CRS-1 provides the following:
Supports an integrated IP over dense wavelength-division multiplexing (DWDM) transponder with flexible 10 Gbps and 40 Gbps options that extends up to 2000 km without regeneration.
Converge IP and DWDM Layers in the Core Network White paper
Supports standalone configurations of 320-Gbps, 640-Gbps, and 1.2-Tbps systems enabling 40-Gbps per slot capacity in all form factors.
Supports multichassis configurations of 1.2 to 92 Tbsp. with the use of up to 72-line card shelves and eight fabric shelves all operating as a single system.
Supports both fixed and modular line cards usable across all configurations. The fixed cards feature the world's first 40-Gbps (OC-768/STM-256) tunable WDMPOS and POS interfaces. The Cisco I-Flex (PDF – 2.1 MB) design offers a portfolio of modular interfaces featuring shared port adapters (SPAs) and SPA interface processors (SIPs).
CISCO CRS-1 MODELS
The CRS comes in the following Models
CRS-1 16 SLOT SINGLE SHELF SYSTEM
Dual RP
16 MSC- Modular Services Card
Combination of SPAs and PLIMS
CRS-1 8-SLOT SINGLE SHELF SYSTEM
Dual RP Manager Based solutions for the Enterprize Market
8 MSC
CRS-1 4-SLOT SINGLE SHELF SYSTEM