Cisco Unified Communication
Cisco converges voice, video, and data communications around a shared IP-based infrastructure, which simplifies making calls, sending messages, or joining audio or video conferences.With a wide range of solutions targeting customers of every size with respect to call control, messaging, voice/video gateways, flexible licensing options and integration options with Lync, Cisco provides the best value, TCO and ROI.
The unified communications call control platform Cisco Unified Communications Manager for enterprise and cost optimized versions for medium or small  enterprises (Business Edition 7000 and Business Edition 6000) provide the best value and optimum solution tailored to the customers requirements.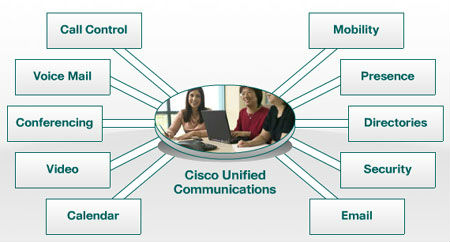 With the Cisco Advanced Collaboration Architecture specialization, Questivity has elaborate expertise in the design and deployment of  Cisco Unified Communications platform based solutions and has helped  customers take advantage of these solutions to:
Improve customer service and enhance customer satisfaction
Collaborate anytime and anywhere
Optimize decision-making
Demonstrate increased productivity
Questivity helps customers develop a comprehensive collaboration strategy by analyzing their existing infrastructure and understanding the business objectives. Once the strategy is developed we work on the design, identify the appropriate components from the Cisco portfolio and validate the design to ensure all the requirements and use cases are thoroughly covered. We have developed a solid reputation of delivering highly optimized and effective solutions with limited budgets and tight schedules.