Featured Products and Promotions
We at Questivity understand that pricing is one of the most important decision making criterion. We are making every effort to provide this product to you at the best possible price in the industry. However, our most satisfied customers tell us that they like the personal attention we afford, the technical expertise we provide and the transparency we bring to the pricing negotiations. Make this or your next purchase a whole new buying experience!!!
| Part Number | Description | List Price | Your Price | You Save |
| --- | --- | --- | --- | --- |
| ISR4331-SEC/K9 | ISR 4331- 3 Ports – MGMT Port – 6 Slots – Gigabit Ethernet | $4500.00 | $2025.00 | $2475.00 |
| ISR4331-V/K9 | ISR 4331- 3 Ports – MGMT Port – 6 Slots – GB Eth- LICS CUBEE10 | $5000.00 | $2250.00 | $2750.00 |
| ISR4331-AX/K9 | Cisco 4331 Router – 3 Ports – Management Port – 6 Slots – Gigabit Ethernet – 1U | $6111.89 | $2275.00 | $3836.89 |
| ISR4331-AXV/K9 | Cisco 4331 Router – 2 Ports – Management Port – 6 Slots – Gigabit Ethernet -APP SEC UC LIC CUBE-10 | $8145.50 | $3050.00 | $5095.00 |
Questivity is a Cisco Premier Partner with Authorization to sell all Cisco Products. Buy this and all Cisco products from Cisco Authorized distribution channels and resellers like Questivity with complete backing of Cisco. Please Call 408-605-5598.
ENTERPRISE NETWORKING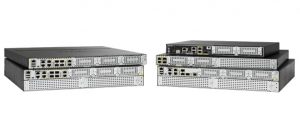 "Request Discounted Pricing"
Cisco ISR4331/K9 overview
The 4331 Integrated Services Router from Cisco offers a multicore CPU architecture running modular Cisco IOS XE Software that can be quickly adapted to the changing needs of your branch-office environment. It separates control, services, and data planes, providing application-aware network services while maintaining a stable platform and a high level of performance during periods of heavy network load. Additionally, the router is able to integrate application-aware services and scale performance without a complete equipment upgrade. The 4331 features encryption acceleration, voice- and video-capable architecture, application firewall, call processing, and embedded services. The platform supports a range of wired connectivity options, including T1/E1 and fiber Gigabit Ethernet.
Offers services integration with voice, video, security, data, and embedded services
Enables deployment in high-speed WAN environments with concurrent services
Network agility for cloud-based services
Comprehensive application services for visibility, control, and optimization to deploy, monitor, and troubleshoot applications from any location
Features FlexVPN unified configuration, robust threat defense with firewall and intrusion-prevention services, and consistent policy enforcement with Cisco TrustSec security
Maximizes investment protection by supporting Cisco IOS XE Software, delivered in a single, universal image
Cisco ISR4331-AX/K9
The Cisco router ISR4331-ax/k9 provides "Application Experience" software bundle with advanced routing and network monitoring services. Cisco ISR4331-AX/K9 includes IP Base, Security, and AppX licensing with RTU for 750 ISR WAAS or 1300 vWAAS connections. The Cisco ISR4331-AX/K9 provides Advanced Service Bundle, Aggregate throughput-100 Mbps to 300 Mbps, Memory 4 GB (default) / 16 GB (maximum) . If you need further technical details about Cisco ISR4331-AX/K9 datasheet you can refer to the Cisco website.