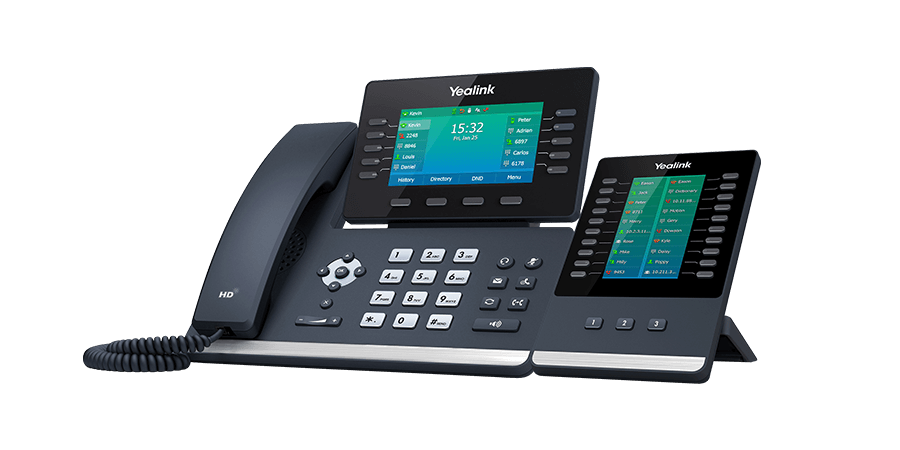 Yealink T54W is a VOIP Voice over Internet Protocol (VoIP) device that allows you to make a voice call using an internet connection over the analog phone line. Executives and professionals generally use these devices. It is suitable for official purposes. Further, it is an easy-to-use business phone with a 4.3 Inch color LCD screen fueled with 4.2 Bluetooth that supports upto 5G services. It has a powerful USB 2.0 that works as a local area network.
Therefore, having this handy cordless device at your office makes communication between peers easy. Read this post to know the benefits of having T54W VOIP in your office.
Top 3 Benefits Of Installing Yealink T54W In Office
Yealink T54W is a multi-purpose VOIP phone that delivers optimum desktop productivity and efficiency. These devices are known to take place in any office due to their numerous features. Here are the top 3 benefits of purchasing a T54W and adding them to the workplace.
1. Wireless Transmission Channel In The Office
This Yealink T54W contains Bluetooth 4.2, which serves Bluetooth headsets and allows mobile contact synchronization to let you know who is contacting you over the phone. It also has dual 5G Wi-Fi-band connectivity to access the device's net easily. These devices help expand the horizons of your busy environments by adding an accessible communication channel. Moreover, it creates a phone system among your peers by adding multiple handsets for each employee. There is also a VC desktop function that allows for making collaboration with your laptop easier than it used to be.
2. High Expandability And Efficient Installation
A USB 2.0 built-in port allows you to enjoy the call recording feature via USB Flash Drive. You can also connect a wireless USB headset with the help of this device which was not possible in its predecessor Yealink EHS36; Yealink T54W expansion modules are programmed with 180 paperless DSS keys. Therefore, it effortlessly allows mass deployment with Redirection And Provisioning Services(RPS). It helps you with the boot mechanism to recognize zero-touch provisioning without needing to change complex manual settings.
3. The Device Is Known For Its Accessibility And User-Friendliness
Yealink T54W VOIP has a great list of features that includes an adjustable 4.2 Inch color LCD screen that is flexible enough to adjust to your required view angle as per your needs. The latest Yealink Optimal HD Voice technology version provides better quality audio with less data. Therefore, it effectively reduces background distraction from the noisy environment. It follows all the industry audio standards allowing the essential handset to make it easier for people with hearing loss to hear more clearly.
Know These Key Things That Make Yealink T54W A Smart Conference Phone
You might think about Yealink T54W for impromptu meetings, conferences, or just virtual talk with your coworkers. Yealink is a wise choice for someone who likes using a speaker or desktop phone in the comfort of their office or desk. Additionally, these conference phones are improved over their predecessor technology with recent updates of HD audio, full duplex, and echo cancellation. Here are the key features that make T54W an intelligent choice for the conference phone.
What Are The Features That Make T54W A Smart Conference Phone?
Smart conference phones are used in meeting rooms and large offices where multi-party phone calls are required at once. Yealink T54W surpasses all its competitors in terms of technology, power, network, portability, and many more. Read further to know how it becomes a smart choice for the virtual conference phone.
1. Covers A Large Meeting Room
Various conference phones have different speaker quality and microphone pickup ranges. The size of the room also dictates the kind of conference phone you need. Yealink 54W has powerful signals suitable to cover a large meeting room. Besides, it offers optional expansion microphone kits to amplify the audio range.
2. Energy-Efficient Power Source
Yealink T54W comes with Power over Ethernet (PoE) with an option for an AC adapter to get charged easily. If there is no power on the ethernet, you can find a great way to connect the device to a power supply through an AC adapter to keep the phone working. Thus, it is marginally ahead of its competitor to keep your phone charged all the time.
3. Highly Efficient In Establishing Connections
You will have various options to establish your phone connections if you opt for T54W for office connections. Yealink 54 provides you with DECT, USB, and wireless connection to hold conference calls at your convenient place. Further, it has an HD omnidirectional microphone which is sufficient enough to catch a connection in large rooms or executive offices.
4. HD Quality Call Recording Functionality
Recording the meeting to make steady notes that might benefit you in the near future is important. Further, it will keep you updated to have a backup of the meeting that might be necessary for official use. Call recording is indispensable for reviewing important details, training purposes, avoiding having to take notes, and sharing the meeting with a colleague. Thus, Yealink T54W provides HD call-enabled recording with the support of an SD Memory card.
5. Portability Feature
Portability is pretty much an important feature for conducting a meeting at the workplace. The larger the portability, the more accessible a smart conference can be for the meeting. Moreover, the device needs to be battery operated, connect to PCs via USB and wireless, and connect to mobile networks (GSM/3G) by installing a SIM card. Yealink T54W highlights all those features to make your meetings efficient and better.
Make Your Meetings Efficient With Yealink T54W!
Yealink is one of the world's leading brands in the field of delivering high-quality cordless solutions. These products are of unmatchable quality that can last up to a decade. So if you are searching for one of the best conference phones, you can buy Yealink T54W from Questivity. Our one-stop solution company brings certified products to your doorstep at affordable prices. Contact us to explore more about our products.
Boost Your Office Network With The Yealink Devices!
Yealink T54W is one of the essential offices' components with multi-purpose new-generation VOIP features that add up to HD quality audio calls for the conference. It can be connected to a laptop and wifi network in the office. If you are searching for one of the best VOIP devices at affordable rates, you can contact Questivity for quality devices. Contact us to know about exciting deals on numerous solutions and network packages. We bring technology to your doorstep.