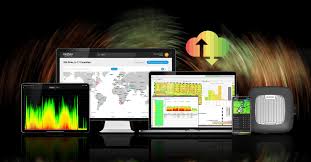 Ekahau is a company that specializes in Wi-Fi network design and optimization. Here are some of their top products:
Ekahau Site Survey (ESS): This is Ekahau's flagship product and the most popular Wi-Fi design and survey tool. It enables users to plan, design, and validate Wi-Fi networks, as well as troubleshoot connectivity issues. ESS provides advanced features like real-time location tracking and predictive modeling.
Ekahau Connect: This is a suite of tools that includes Ekahau Site Survey, Ekahau Analyzer, and Ekahau Capture. It provides a complete solution for Wi-Fi planning, troubleshooting, and optimization. Ekahau Connect allows users to see the whole Wi-Fi network, including the physical environment, and optimize network performance.
Ekahau Analyzer: This is a professional-grade Wi-Fi analysis tool that helps troubleshoot Wi-Fi performance issues. It enables users to identify and resolve network problems, such as interference, hidden nodes, and co-channel interference. Ekahau Analyzer also provides insights into network performance and capacity planning.
Ekahau Pro: This is a comprehensive Wi-Fi planning and optimization tool that provides a complete solution for designing and optimizing Wi-Fi networks. It includes advanced features such as 3D modeling, real-time location tracking, and network capacity planning.
Ekahau Survey for iPad: This is a mobile app that allows users to conduct Wi-Fi surveys using an iPad. It provides an intuitive interface for capturing data and conducting surveys in the field. Ekahau Survey for iPad is ideal for small to medium-sized Wi-Fi deployments.
Overall, Ekahau's products are widely used by Wi-Fi professionals and are known for their ease of use and advanced features.